Gruesome Magazine Review
By Joseph Perry
April 17, 2021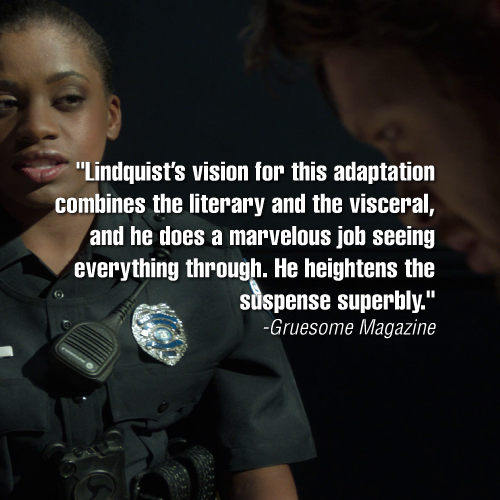 Director McClain Lindquist takes Edgar Allan Poe's classic short story "The Tell-Tale Heart" and gives it a modern updating that is true to the source material but adds a new approach in his short film The Tell Tale Heart. The result is a fascinating character study of a narrator who speaks in 19th-century fashion while living in the present day, and who has something weighing heavily on his conscience.
The narrator (Sonny Grimsley) has murdered the long-ailing old man (James C. Morris) for whom he worked as a caretaker. The old man's vulture-like eye drove the narrator to insanity and his act of murder, and as two police officers (Mikah Olson and Teren Turner) question the narrator about the old man's whereabouts, putting ever-increasing pressure on him, the narrator does his best to come across as charming and full of civility, even though his affected air comes off as pretentious and offputting to one of the officers. Meanwhile, the narrator's conscience slowly begins to crack.
Many potential viewers will be well familiar with Poe's story but Lindquist's film adaptation, which he cowrote with John Lindquist, serves up some fresh spins on the tale. The juxtaposition of the narrator's speaking style, which is true to the era of Poe's 1843 story, and the modern-day, no-nonsense dialogue of the police officers, is one such example.
McClain Lindquist's vision for this adaptation combines the literary and the visceral, and he does a marvelous job seeing everything through. He heightens the suspense superbly, intersperses the interrogation scenes with flashbacks of what actually happened — including some intense, gory scenes involving sharp metal tools from the kitchen and the toolshed — and shows a keen eye for interesting framing and shots.
Grimsley carries the bulk of the short on his shoulders and performs splendidly. He must convey the arrogance of the smarter-than-everyone-else killer, the false charisma of a man trying to appear appealing as he endeavors to cover up his guilty actions, and the raving lunacy of a madman driven to his limits. Grimsley nails each of these elements in fine fashion.
Currently playing on the film festival circuit, The Tell Tale Heart's presentation is as good — with crisp cinematography from Joseph Olivas and authentic-feeling set decoration from Lyndi Bone and Michael Frazier — as its story is strong. Both longtime Poe fans and those new to the classic tale will find plenty to celebrate with this short.
4 out of 5 stars
Review can be found at: https://gruesomemagazine.com/2021/04/17/review-the-tell-tale-heart-poe-tale-shocks-in-impressive-modern-setting/
← Back
Next →