The Horror Guys Review
By Brian Schell
June 1, 2020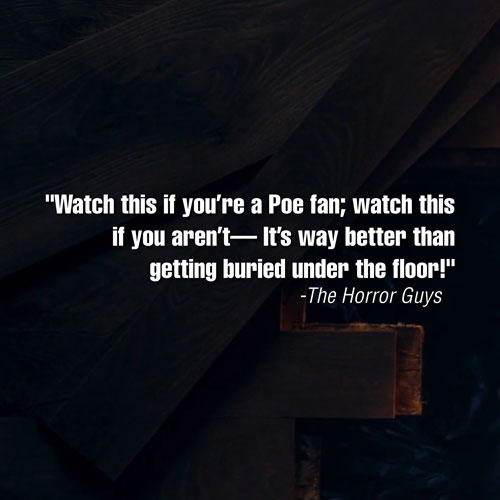 Synopsis
The narrator asks us to see how calmly he can tell the story, as we flash back to see his crime. We all know the famous Edgar Allen Poe story already, so the spoilers here are unavoidable, but it's still fun.
We see the narrator caring for an old man. He loves the old man, but the old man's freaky, milky eye really bothers the young narrator. He sneaks into the old man's room and watches "the eye." It disturbs him more and more, as he imagines all sorts of terrors behind the evil eye. He eventually snaps and kills the old man. Will he get away with his crime?
Commentary
With a story this well-known, the fun is in the way the story is presented. The whole dramatic structure of this story is the author's descent into madness, and Sonny Grimsley pulls it off pretty well. The effects, pacing, and editing are all very modern and it was hard to look away for the length of the film.
It's interesting that the narrator has a cheesy English accent and does dialog straight from the Poe story, while the detectives and other people just speak normally. The cinematography is really sharp, and the effects are great too. The old man's rubber face is a little obvious, but it's not too bad.
They really paid a lot of attention to this, even the credits and the soundtrack are good. Watch this if you're a Poe fan; watch this if you aren't— It's way better than getting buried under the floor!
Review can be found at: https://www.horrorguys.com/short-film-the-tell-tale-heart-2020/
← Back
Next →