The Bold Mom Review
By Mar Garcia
July 16, 2020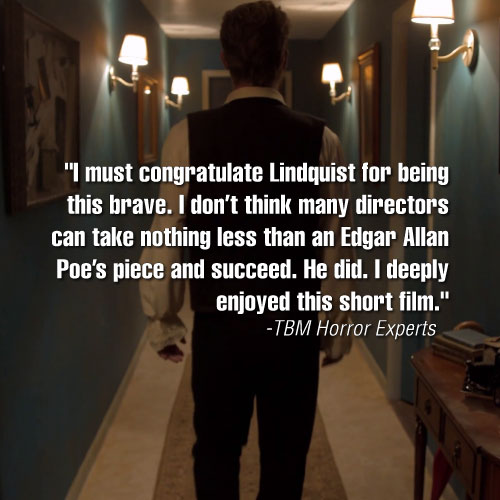 I feel there are a lot of things to say about this film. Before I submerge under details, I must say I deeply enjoyed this short film.
Firstly, I must congratulate Lindquist for being this brave. I don't think many directors can take nothing less than an Edgar Allan Poe's piece and succeed. He did.
Although most horror fans are going to LOVE this film, it never loses the romantical, gothic brush stroke so typical from Poe. The scenes are very intense, filled with sensorial elements such as percussions, music with an undertone of sorrow which reminded me of the gothic musical wave appearing in the 70's.
The director perfectly knows where he wants you to focus your attention and he thrives on hypnotizing you, making use of strong pulsations; bright red, thick blood; sudden jumps of the scene, that maniac sight of the narrator (SONNY GRIMSLEY) or the old man (JAMES C. MORRIS)'s lost mind which, even already knowing the storyline for being a classic, you still wonder what might be thinking behind those white-veiled exhausted eyes.
I appreciated the combination of modern touches (such as the head-shaking of the protagonist) and nostalgic, old school winks as the dramatical dialogues or the close-up views.
I also can imagine some people might feel the characterization of the old man might be a bit excessive, but in my opinion, that is a poetic license by Lindquist. Which is perfectly performed and it doesn't disturb the harmony of the film's aesthetics at all.
After all, we are talking about Poe's writing. Gothic elements MUST be present.
The cast played brilliantly their part, including TEREN TURNER who I was so pleased and surprised to find in this film. MIKAH OLSEN, police officer, brings the modern touch to the story, incarnating the one who faces our maniac to discern what really happened.
What happened… stayed forever lost in the narrator's mind. Not to mention how amazingly performed is the psychopathy and paranoia from this character. He is completely gone, and wanders off along the movie with a tortured psyche, swimming between reality and delusion, passionate devotion to his handcraft and hate.
My most sincere congratulations to THE TELL TALE HEART's team, from costumes, and makeup to performing, setting, decor, lighting and depth. I don't usually find pieces which I enjoy so much, and I would definitely be game for a longer version where the narrator's dementia could even be more developed.
Congratulations!!
Review can be found at: https://www.theboldmom.com/horror-film-review-the-tell-tale-heart-directed-mcclain-lindquist/
← Back
Next →