Sick Flix Review
By Corin Totin
November 5, 2020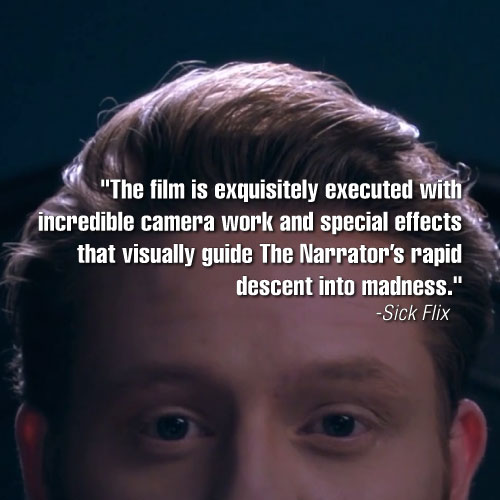 It's always a bold move to try adapting a piece of classic literature, especially one that has been done numerous times before. A director has to be very confident that their particular take on the subject matter has the chops to stand out from the other iterations and prove that there's a reason for the story to be told yet again. Even though Edgar Allan Poe's 1843 short story has already been adapted to film over a dozen times, director McClain Lindquist still felt that there was something unique that his take could offer and frankly, I'm damn glad he did.
The story of a caretaker (Sonny Grimsley, credited here as "The Narrator") who is driven to murder because of his hatred for his elderly employer's one blind eye is told within a modern setting but with some novel tweaks. The Narrator himself seems to be a man out of time (the cops themselves note that he "talks like he's in an old movie") but this eccentricity works wonderfully well and justifies the preservation of much of the original language from the story. Despite its modern setting Lindquist adheres to the soul of the source material and although the violence is significantly more graphic than what is merely hinted at in the original text, it perfectly fits within the style of this adaptation.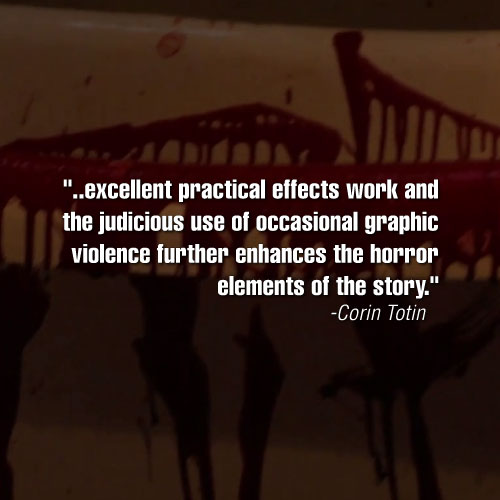 The film is exquisitely executed with incredible camera work and special effects that visually guide The Narrator's rapid descent into madness. There is also some excellent practical effects work and the judicious use of occasional graphic violence further enhances the horror elements of the story. Speaking of effects, I did find Lindquist's choice to use prosthetics to age-up the actor playing the old man by about fifty years rather than hiring someone age appropriate a bit confusing but this may have simply been an issue of actor availability. Don't get me wrong, the prosthetics themselves are excellent and very convincing but like pretty much every aged-up actor they end up ultimately residing in the uncanny valley.
Of course effects are only one ingredient here and it's Grimsley's mesmerizing performance that really steals the show. Although the performances of the officers opposite him fall a bit flat by comparison, they are still serviceable and Grimsley's bombastic character is sure to draw the viewers' attention regardless. Minor issues aside, this is an excellent adaptation that really leans into the horror and creates a unique experience that fully justifies the retelling of this classic tale. In fact, I would go so far as to say that this should be considered the definitive take on the material and certainly the first place any fan of the story should look.
4/5 STARS
Review can be found at: https://sickflix.net/2020/11/05/short-film-review-the-tell-tale-heart-2020-duration-22-min/
← Back
Next →