Mother of Movies Review
By Vanessa No Spoilers
November 26, 2021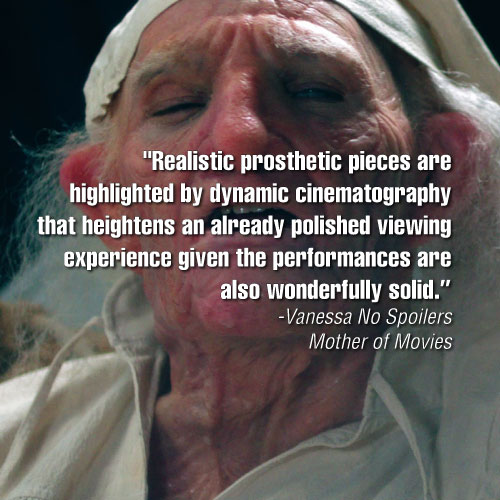 Edgar Allen Poe is a firm favorite for filmmakers as a topic, theme, and device to tell a new story or reimagine the literary version. There is even a Simpsons episode that uses the sound of a beating heart to nurture feelings of paranoia in the throes of being caught. Yet to have broken into feature films, McClain Lindquist's Tell Tale Heart short film showcases what this director, writer, and producer has to bring to the table. Here he utilizes the narrator as the crux of the story alongside key pivotal imagery from the original short story. Lindquist manages a truly disturbing deep dive into paranoia and madness.
Special effects and set design are on point for a low-budget film of this type. Realistic prosthetic pieces are highlighted by dynamic cinematography that heightens an already polished viewing experience given the performances are also wonderfully solid. Not to mention Det. Tucker played by Taren Turner being a doppelganger for Billy Zane, the story's retelling follows a man's attempt to keep a secret before slowly transcending into madness.
A Beating Heart
The narrator, played by Sonny Grimsley becomes paranoid about what an Old Man sees. Wanting him to never see again, he murders him and buries him under the floorboards. The local police force receives an anonymous call about the old man's welfare and begins to investigate. The narrator serves to convince himself that his actions were justifiable given the old man's evil eye. But as he attempts to convince the detectives that nothing untoward has happened, his story slowly unravels as a facade of sanity slowly slips away.
Visuals on-screen flit back and forth between reality and what the narrator believes to be true. In this version of the Poe classic, the finale is both a sad a viscerally violent reminder of what happens when guilt meshes with madness.
I give The Tell Tale Heart 4 you can't hide the truth forever out of 5. 4 Crows out of 5
Review can be found at: https://vanessasnonspoilers.com/archives/43051/the-tell-tale-heart-short-film-reimagines-the-egar-allen-poe-original/
← Back
Next →