Jared Gray Review
By Jared Gray
May 8, 2020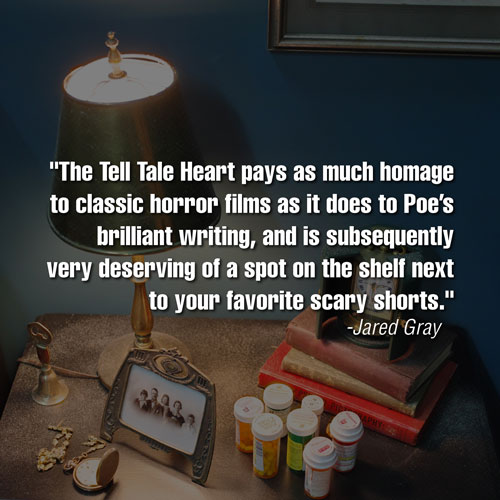 "I hate the way he talks," begins Officer Sharpe (Mikah Olsen), "it's like an old movie." Indeed, Edgar Allan Poe's classic tale is familiar enough to have been adapted many times over. To make another short film based on this story might be an idea born from madness. And yet, as Poe himself says in his original text: "Madmen know nothing." McClain Lindquist (a horror fanatic responsible for both adaptation and direction) has smartly created something fresh and modern while remaining true to the timelessness of Poe's original work.
All the elements are there in The Tell Tale Heart: an unreliable Narrator (Sonny Grimsley) who believes himself sane, the Old Man (a charming James C. Morris) with his cloudy "vulture eye", the precision and calculation of the murder plot, the killing and dismemberment (presented in graphic, gory detail by an incredible special effects team), the concealment of the body beneath the floorboards. But Lindquist's film is set in modern day and cleverly begins at the end of the story, told as a series of flashbacks during a police interrogation. The scenes abruptly jump back and forth between the historic house (exterior shots feature the Eccles Mansion in Ogden, UT) and the sterile interiors of the police station, sometimes seeming to merge the two environments together. This can make the timeline tricky to follow, especially considering the climactic moment of Poe's text (when the Narrator's guilty conscience gives him away) is moved from its expected place at the ending. To make things more confusing, both the Narrator and the Old Man are costumed in period clothing (excellent attention to detail by Janelle Corey and Katie Carlson) which contrasts the modern-day uniforms of Detective Tucker (Teren Turner) and Officer Sharpe (Olsen). But confusion might be exactly what Lindquist is going for. It's all too apparent from the beginning that something is wrong with the Narrator, and perhaps we should be careful not to take his story at face value. After all, he is a madman, and if he believes in his version of the truth strongly enough, it becomes impossible not to see it for ourselves.
Sonny Grimsley shines as the charismatic Narrator, winning us over and earning a place alongside contemporary characters like Dexter Morgan or Patrick Bateman. The Narrator speaks with the heightened vernacular found in Poe's writing, effectively believing himself to be of a different time, and Grimsley's approach is compelling to watch as his grounded sanity slowly dissolves into madness.
This is a horror story, so expect a few well-placed jump scares and a lot of blood. Each shot of the film is artfully crafted (Director of Photography, Joseph Olivas), its soundtrack expertly punctuated by relentless ticking clocks and pounding heartbeats (Sound Design by Jacob Proctor), and all of it is woven together with a beautiful score by Joel Pack. With a few key visual elements (Grimsley's knowing smirks evocative of Psycho's Norman Bates, bulging doors not unlike those which possess the mansion in The Haunting, flashes of timepieces reminiscent of Damien Karras's nightmares in The Exorcist), The Tell Tale Heart pays as much homage to classic horror films as it does to Poe's brilliant writing, and is subsequently very deserving of a spot on the shelf next to your favorite scary shorts.
Lindquist's choice to set The Tell Tale Heart in a modern setting is a bold one. Unlike in Poe's time, this is a world with electricity and telephones. But just like in the original story, it's also a world where a madman can perform an unspeakable crime and still believe his actions are justifiable — a sobering reminder of the violence and brutality we still face today.
← Back
Next →