High On Horror Review
By Drew Van Ess
October 27, 2022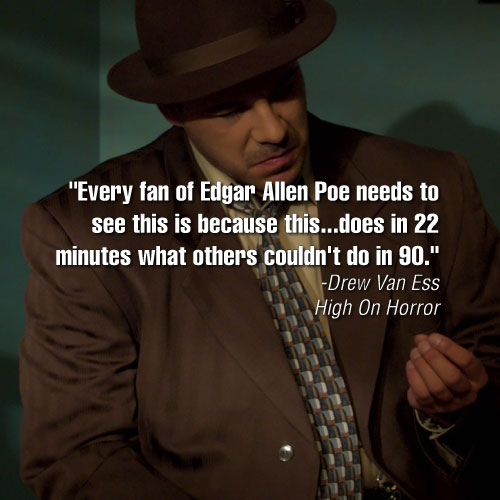 And The (Heart) Beat Goes On; The Tell Tale Heart (2022) Short Film Review 
If there's one thing that never foibles, it's those stories from Stephen King, H.P. Lovecraft and Edgar Allen Poe. We know they will never stop circulating; some never before adapted on screen and some being adapted numerous times in varying ways. I bet most of you think that most of you think that The Raven is Edgar Allen Poe's most used poem. In actuality, it's The Tell Tale Heart. The 22-minute short film has been making the rounds at film festivals and collecting accolades left and right. Excluding run-time, what makes it so different from say the original British The Tell-Tale Heart (1960) horror film, or the 2016 film of the same name directed by John La Tier? 
This bloody take on the psychological horror story by Edgar Allen Poe about a man's guilty conscious driving him to insanity is adapted in a way that turns the story on its head, but is faithful to the source material.
The reason that every fan of Edgar Allen Poe needs to see this is because this modern version does in 22 minutes what others couldn't do in 90. McClain Lindquist doesn't hold back on the horror, and doesn't shy away from being dark as shit. Yet there's a cocky witticism to it that makes it fun. Nevertheless, it's gorgeous on the eyes; the cinematography and gruesome visuals drew me in immediately. Then there's the make-up, that if I'm being honest, the quality took me aback for a short film. I have to say that for a low-budget indie short film that it's incredibly polished.
The music is a standout. Its beautiful gothic score compliments the dark tone of the film while also being fun at times.
Where the movie suffers in inexperienced actors, it makes up for in gore. This is the bloodiest version I've seen of this classic story on screen. The wheel isn't reinvented here, but it's not another sloppy tiresome version of Poe's story like we've seen in the past. It's gory and packs a helluva punch for a flick under a half hour. It's a compelling story drenched in blood. I'm impressed with what I saw; the biggest downfall was that I wish it ran longer.
7.75/10
Review can be found at:
https://www.highonhorror.com/reviews/4ugnz6u0o0jmk9ng2t7k2c1fvyve5i
← Back
Next →