November 7, 2022
Lonely Horror Club Review
By Lonely Horror Club
November 2, 2022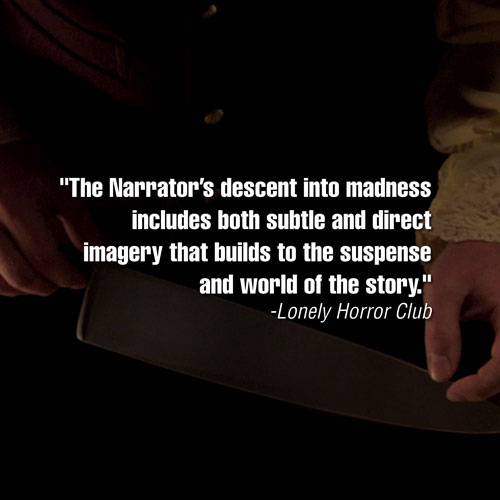 The Tell Tale Heart (2020) – 4/5⁠

I had the chance to watch and review this short film while it's still in its festival run. No surprise to anyone, I was a bit of an Edgar Allan Poe nerd in my teen years. I've seen multiple adaptations of The Tell Tale Heart but this most recent short film brings a fresh and bloody new lens to the classic. ⁠
⁠
The first thing that stood out to me on this rendition was how crisp and calculated the cinematography is. I've seen my fair share of short films, student made and otherwise. It's clear the production quality of TTTH is high from just an initial viewing. Another unique element of this rendition is its blend of dark comedy and modern elements into a story that is traditionally set in the 1800s. ⁠
⁠
The two standout pieces of TTTH are the impressive, yet tasteful, gore and the depiction of madness. I made the mistake of eating while watching this and found myself gagging in the third act. The descriptions of gore aren't as direct in the original short story, and are more implied than anything else, so bringing this element to the forefront really reinforced Poe's horror legacy. The Narrator's descent into madness includes both subtle and direct imagery that builds to the suspense and world of the story. ⁠
⁠
I didn't know what to expect from this short film, but I definitely found myself impressed by this. My only critique was that the acting did feel a bit stiff and forced at times, but not enough to take me out of the story, especially for the short film format. This team definitely has the makings of a great feature length debut, hopefully sometime soon. Thank you to the team at @telltalemovie for giving me this sneak peek! ⁠
⁠
[Reminder: Though I may be asked to review projects, all thoughts and opinions are entirely my own. I was not compensated for this review. But if anyone does want to pay me to do this, please send me a DM lol! xx Lonely]⁠
⁠
Know Before You Watch: Features blood, gore.
Review can be found at:
https://www.instagram.com/p/CkeX_lNO2GX/